Nat Apanay solo exhibition curated by
Timofey Caraffa-Corbut named as ` W O M B ` at ARTPOGOST presented graphic series and abstract paintings, video installation and art objects and started with art performance that has been showed on a public street.
IN THIS HOUSE YOU CAN`T CLOSE THE CURTAINS
IN THIS HOUSE THERE IS A LOT OF LOVE
IN THIS HOUSE GNOMES SMILE FROM THE BUSHES
IN THIS HOUSE TAKE CARE YOURSELF
DEDICATED TO NAT

YOU INSPIRE ME WOMB IN THE DARK DARKNESS IN THE WOMB IN THE WOMB OF DARKNESS IN THE DARKNESS OF THE WOMB THE WOMB OF THE EARTH IN THE DARKNESS OF THE EARTH, CAVES, BURROWS, STALACTITES AND STALAGMITES, GROWING OUT OF THE EARTH'S WOMB
STALACTITES GIVE BIRTH TO STALAGMITES BY USING WATER,
STALAGMITES ARE CONNECTED WITH STALACTITES THROUGH WATER IN THE DARK, IN THE WOMB OF THE EARTH
WHEN I WAS CHILD, I HAD A DREAM AND I DREAMED THAT I BECAME A WOMAN I WAS STILL A VIRGIN BOY THEN,
SO I WAS A VIRGIN GIRL, YES, I DREAMED THAT I BECAME A VIRGIN GIRL I STILL HAVE MY MEMORY BUT MY WHOLE BODY BECAME FEMININE AND I FELT COMPLETELY UNFAMILIAR FLOWS OF ENERGY I FELT A WOMB INSIDE ME
AND MY UTERUS WAS LIKE A THIRD EAR THAT NIGHT
MEN OPEN THEIR THIRD EYE AND THAT NIGHT I LEARNED THAT WOMEN ARE BORN WITH A THIRD EAR
AND THAT NIGHT I COULD HEAR THE VOICE OF THE ENTIRE UNIVERSE I WAS SO DEEPLY AFFECTED BY THIS CONDITION
THAT SINCE THEN I HAVE NOT JUST RESPECTED WOMEN,
BUT I CONSIDER THEM TO BE THE ONLY GOD-SACRIFICING GURU ON THIS PLANET EXHIBITION OF NAT APANAY ABOUT THE SUBTLE, UNBIASED, ENDLESSLY AFFECTIONATE TOWARDS PEOPLE, ART, AND THE OUTSIDE WORLD AND IS THE WOMB OF MOTHER EARTH
P. S. - CLOUDS, BUY

TIMOFEY CARAFFA-CORBUT

Nat Apanay 2020 @ Artpogost
Natalia Apanaeva | Nat Apanay was born in Naberezhnye Chelny, Russia in 1986. Nat has been received the Academic education of the Fine Arts for 10 years. In 2010 she got the Master of Architecture at the State University of Architecture and Construction in Kazan, Russia. In parallel, received a second higher education – Bachelor, translator (English). During student years, spent summers practicing skills of abstract painting in workshops and galleries in New York and London.
In 2012 - 2018 Nat held the position of Chief Architect in Russian top companies.
But the thirst for information, constant search for ideas and answers led Nat to the Philosophy faculty of Moscow State University by Lomonosov, where she found a source of inspiration for a creative work, in conjunction with the study of scientific works on Neurophysiology, Neuroesthetics, lectures on Quantum physics and Cosmology, as well as manuals on human anatomy. In parallel with studies and searching in the workshop, Nat entered the British Chelsea College of the Arts in London.
Nat is a member of the International Federation of Artists. Paintings are kept in private collections in the USA, Dubai, Russia, Switzerland, etc. Nat is a participant of international festivals, biennales and exhibitions of contemporary art
Nat`s main focus on extended conversations between abstract language and sculpture, human body as a design set and spiritual metaphysics that have arisen from long periods of experimentation in the studio.

Timofey Caraffa-Corbut born in 1975, in Moscow artist, curator, founder of Artraum Association and Artpogost gallery. Member of the Board of the Creative Union of artists of Russia.

Nat Apanay 2020 @ Artpogost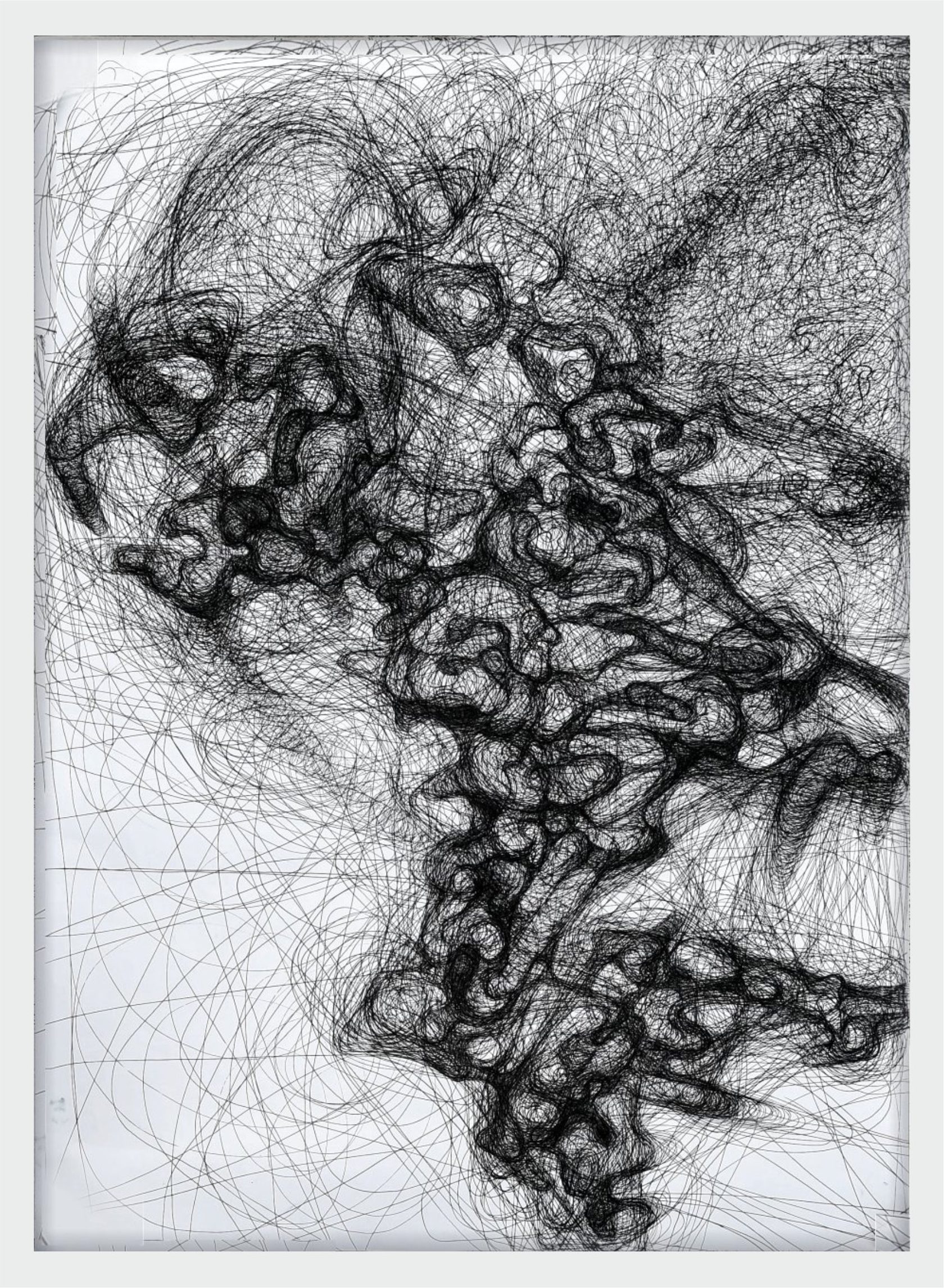 Nat Apanay 2020 @ Artpogost